Welcome to Mr. X's
Got Gal vs. The Fishmen from the Deep
This is a complete 3D rendered comic story featuring some of the hottest, sexiest, buxomy super heroines to dawn skimpy outfits and fight evil.
Delta city is all quiet. Got Gal, champion of justice has cleared out nearly all the mutants, abhorations and slimy, tentacle weilding creatures that have plagued the city. But the evil Dragon Queen, geneticist and demented mutant creator has other plans and sets up shop in a small vacation village on the coast called Oceanside Harbor. Women are disappearing and rumors of disgusting fishmen roaming the night fill the air. Dragon Queen has one goal; to breed a race of super soldiers and all she needs is hosts to bear her genetically created freaks. Can Got Gal, Got Chic and Hexanna the sorceress stop this mad woman before its too late... and before the three super voluptuous heroines become hosts themselves?
THIS ISSUE CONTAINS:
* 175 Pages of super sexy, super heroine action in both a light version and a super slimy extreme version.
* 221 Pages of raw light pics. No text, just action.
* 221 Pages of raw extreme pics. No text, just action.
* 26 Page winning ending with plenty of super heroine humiliation.
* 20 Page losing ending you're not going to believe. And when I say lose I mean LOSE.
SCENES INCLUDE:
* Bondage Galore. Heroines are shackled, gagged, chained.
* Knock Outs. Each heroine is chloroformed or gassed several times.
* Monster Sex. Heroines are taken by horrendous abominations and tentacle weilding plants with their sole intent to breed with any female host they can capture.
* Lots of buxom big breast action including forced milking.
* 3D Art that will knock your socks off.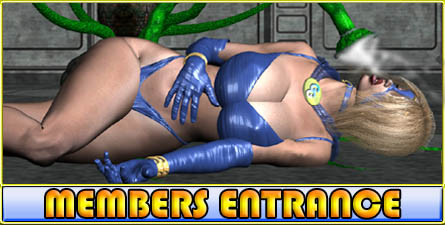 Bookmark this page for entry to the Membership Access!