SUPERGIRL FOR VICTORIA 3
By
---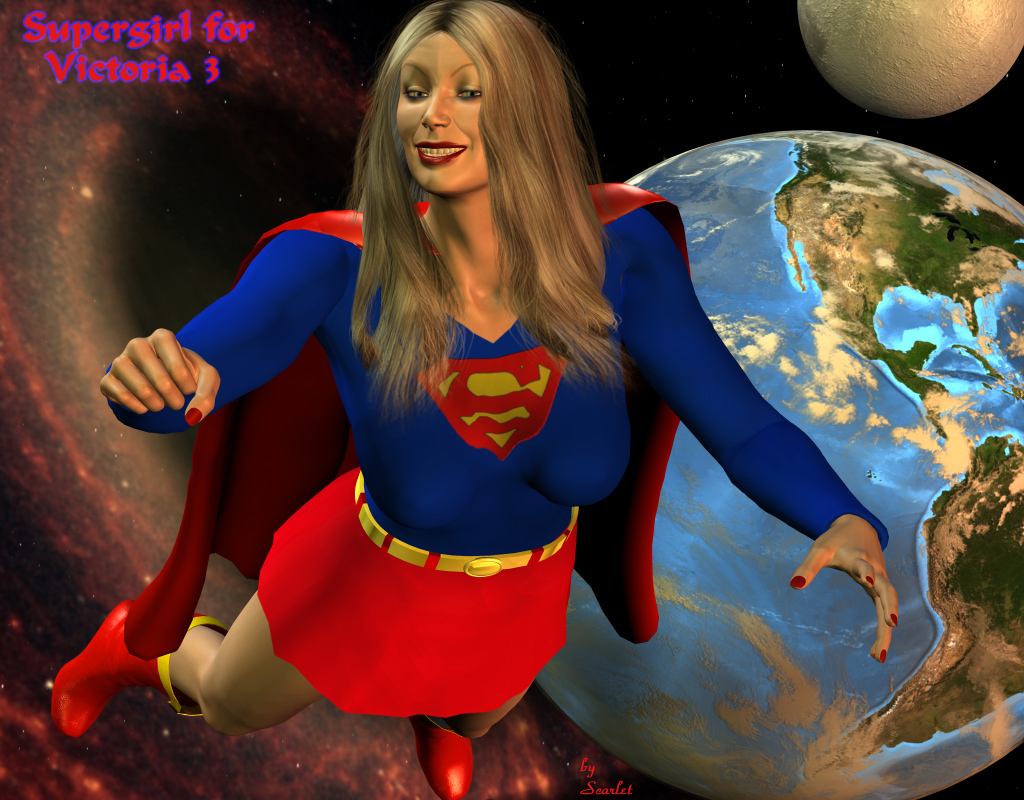 Supergirl is Trademarked (owned) by DC Comics.
Kara Zor-El, a Kryptonian, is able to absorb the solar radiation of Earth's yellow sun to gain the powers of flight, superstrength, superspeed, invulnerability, acute hearing, and range of vision, including x-ray vision and heat vision. Having undergone numerous versions in the comics, my Supergirl is Superman's (also known as Clark Kent) cousin, whose secret identity is Linda Danvers, a television news reporter. Supergirl has the same vulnerabilities as Superman to various types (colors) of Kryptonite (meteorites from the exploded planet Krypton), magic, and solar radiation from red suns.
This is a texture, transparency, and bump map pack for Victoria 3's (DAZ Productions, ps_pe036; you will need the morph pack and skin textures) V3 Tunic (DAZ Productions, ps_ac680), V3 briefs (DAZ Productions, V3 Active Wear, ps_ac384), and V3 Hooded Cloak One (DAZ Productions, ps_ac454). The .mt7 material files for the material room will likely only work for Poser 7 users; others will have to load the textures the old fashioned way. Poser 4 users will need to convert the bump maps to .bum files. Download the zip file here (1.32 mb). The Tunic and Cloak files will also work for the V4 Tunic and Hooded Cloak.
I've used the Ultimate Hair (DAZ Productions for Harvey Mann, ps_ac1556b) and the Hero boots from Predatron's Superhero Set for Victoria 3 (I also like the Italian boots from Dress Coat Italia for V3 [DAZ Productions, ps_ac734]). I've used the Skylar (Scarlett Johansson look-alike)(DAZ Productions for 3DCelebrity, ps_mr136b) character morphs (body slightly modified) with the accompanying skin textures.

---