The Adventures of the Black Scorpion
Author: L'Espion
Illustrated by Evil Incarnate
<![if !supportEmptyParas]> <![endif]>
Chapter 1  Trap
<![if !supportEmptyParas]> <![endif]>
Darcy Walker kicked the covers aside and rolled out of bed.  She had been lying awake for hours.  Perhaps a warm bath would relax her.  Tomorrow was another day at the precinct and she didn't feel like working after a sleepless night.  She had been having more trouble sleeping lately, possibly due to the strain of sustaining two careers.  As she passed in front of the mirror she stopped and looked at herself in the subdued light of the bedroom. 
<![if !supportEmptyParas]> <![endif]>
Raising her arm she brushed a strand of dark brown hair from her face.  Her perfect oval face, full lips, and small nose stared back at her.  Placing her hands on her hips she arched her five-foot-eight-inch body, the movement thrusting her full, pink-nippled breasts forward. 
<![if !supportEmptyParas]> <![endif]>
"Not bad," she thought.  Perhaps she should have taken that modeling job she had been offered when she was eighteen.  She sighed, but it was too late now, and besides she enjoyed her work.  She simply didn't enjoy working eighteen hour days.  She would either have to cut back her nighttime Black Scorpion patrols or quit police work, and that was something she was not interested in doing.  She loved her job – most of the time.  Sometimes she found it frustrating, especially when she had to put up with the sly comments of her co-workers.  Too often fellow officers came by her desk simply so they could look down her blouse.  But she put up with it, hoping that it would help to deflect any connection between her and her Black Scorpion alter ego. 
<![if !supportEmptyParas]> <![endif]>
Raising her arms over her head she watched as her breasts lifted.  Her slender waist and flat belly helped to emphasize their firm fullness.  They were a part of her anatomy of which she was justly proud.  A buzzing sound made her drop her arms.  The Scorpion Alert!  Someone was in trouble. 
<![if !supportEmptyParas]> <![endif]>
She darted across the room to the police radio.  It was an all-points bulletin for the  harbour front.  She didn't wait for all the details; she could probably pick them up on the way, but she learned enough to determine that there was some large scale illegal activity going on that the handful of cops who had shown up couldn't handle. 
<![if !supportEmptyParas]> <![endif]>
Halfway to the garage she activated her Black Scorpion transformation.  She wasn't quite sure how it happened, she just knew that her daring Black Scorpion costume was there when she needed it.  It was a bit skimpier than she would have liked, consisting of a one piece black outfit that clung to her body like a glove, outlining her superb physique.  It was cut low at the top, really being nothing more that a quite revealing bustier.  During skirmishes with criminals she had been concerned that her breasts might actually pop out, but somehow they remained where they were supposed to be, even though her costume barely covered her nipples. 
<![if !supportEmptyParas]> <![endif]>
Long black boots covered her legs to mid thigh and her arms were protected by elbow length gloves.  Leather straps extended from the top of the bustier to shoulder pads that partially covered her shoulders and extended down her back to the curve of her buttocks.  Here too the costume was rather brief, revealing quite a bit more of her shapely backside than she would have preferred.  Whoever had designed the costume had a great fondness for the female anatomy and very little concern for the modesty of the person wearing it.  However, it did serve a useful purpose.  It allowed her great freedom of movement, which was important considering the vigorous physical activity she was often involved in, and it was extremely tough, its fibres being quite capable of stopping knife thrusts or even slowing bullets. 
<![if !supportEmptyParas]> <![endif]>
Her face and hair were concealed by an artistic black cowl that came down to just above her nose leaving her delectable mouth and strong jaw visible. 
<![if !supportEmptyParas]> <![endif]>
It wasn't much of a disguise, but so far no one had detected that beneath the all too revealing costume was police detective Darcy Walker.  How long that run of luck continued she did not know, but she hoped it continued for awhile as much of her Black Scorpion activities definitely skirted the edges of the law.  Vigilantes were not popular with the police, and she was certainly one of those.
<![if !supportEmptyParas]> <![endif]>
Rushing the garage she leaped into her white Corvette Stingray.  The door to the garage was only halfway up as she roared out into the street, heading for the waterfront.  A block from her apartment, she hit the holo-morphic program, converting her street car into the Scorpionmobile.  With an explosion of power it roared through the streets, hitting speeds of over 150 miles an hour.  For most cars such speed in an urban area would have been suicidal, but Darcy's Scorpion reflexes and superlative night vision, as well as the Scorpionmobile's superior design, rendered the action safe.  Within minutes she was at her destination.  Pulling into an alley she left the car and proceeded on foot. 
<![if !supportEmptyParas]> <![endif]>
She knew before she arrived who she was dealing with.  "Idiots," she muttered.  She had run members of the Clancy Gang in a half dozen times this year, but their extended family and smart lawyers always seemed to bail them out and delay their trials to such an extent that there had only been one conviction.  In part it was due to the fact that in four of the arrests she had no evidence other than the eye witness account of the Black Scorpion and she couldn't very well appear in court and call her alter ego as a witness.  She could, however, take advantage of the fact that this time there were other police officers present, provided she could avoid being arrested herself.
<![if !supportEmptyParas]> <![endif]>
Reaching the warehouse where the commotion was taking place she ran up a short flight of stairs and vaulted onto the roof.  Then she ran along the top of the warehouse until she reached the other side.  Looking down on the loading dock she saw two uniforms handcuffed to one another around a telephone pole.  A half dozen men were busy loading crates and cardboard boxes into the back of a semi—trailer.  Without hesitation she dropped onto the shoulders of the nearest man knocking him flat.  Almost before the man hit the concrete of the loading dock she was after the others, vaulting into the closest man and taking him out with a quick blow to his midriff. 
<![if !supportEmptyParas]> <![endif]>
About that time the rest of the men seemed to understand that they were under attack.  "It's the Black Scorpion," one of them yelled.  "Get the bitch!"
<![if !supportEmptyParas]> <![endif]>
Two more men emerged from the warehouse leaving her outnumbered six to one, but Darcy was undeterred.  She footswept the closest man as he stepped toward her, sending him crashing to the concrete, and then ducked under a two-by-four swung at her head and planted a punch on the point of the man's jaw.  He went down as if he had been pole-axed, but even before he hit the loading dock she spun on her left foot and broke the jaw of the man who had been behind her with her right foot.  About that time two of the remaining thugs went for their guns.  They were too far away for her to reach immediately, but that did not matter.  Raising her right hand she released the energy burst from her Scorpion Sting.  Bolts of white lightning shot from her hand, striking each of the thugs in the chest.  The impact blew each of them back five feet and left them in a smoking heap.  The last man tried to run, but Darcy ran him down with ease, tackling him just above the knees and dropping him heavily to the pavement.  It took her only seconds to secure his hands and feet with plastic handcuffs.  Then she went to each of the other defeated men in turn, cuffing them to prevent escape.
<![if !supportEmptyParas]> <![endif]>
"Well, that was fun," Darcy smiled.  She had hardly worked up a sweat.  She walked slowly over to the two cops.  Taking out her lock pick she unlocked their handcuffs. 
<![if !supportEmptyParas]> <![endif]>
"Thanks Black Scorpion," said one of them.  "We'll deal with these punks now."
<![if !supportEmptyParas]> <![endif]>
Both men got to their feet.  Darcy grinned at them.  This was one time that she had reliable witnesses.  The Clancy Gang would not get off so easily this time.  "They're all yours, officers," she replied.  "I'll leave you to it."  She turned away, heading for the warehouse, intending to climb back to the roof and return to the Scorpionmobile, when she heard a small 'pop,' and felt a sharp pain in the back of her thigh.
<![if !supportEmptyParas]> <![endif]>
"What…?" she gasped.  Half turning she looked down and saw a small dart protruding from the back of her thigh.  Her eyes widened as she saw both of the police officers grinning at her.  One of them was holding a small gun in his hand.  She tried to speak, but words would not come.  Then her legs buckled and she dropped to the tarmac. 
<![if !supportEmptyParas]> <![endif]>
A slightly accented voice sounded in her ears.  "You fought well, Black Scorpion.  Better than I thought.  Your martial arts skills are most impressive.  I did not think you would survive the Clancy Gang, but you made them look like children."
<![if !supportEmptyParas]> <![endif]>
Darcy struggled to move.  She knew that voice.  Count Rudolph von Stern, a German money launderer and organizer of the international sex trade.  She had broken his organization more than a year ago.  How had he managed to get out of prison?
<![if !supportEmptyParas]> <![endif]>
Von Stern's low laugh let her know that he was now just a few feet away.  "You might as well stop trying, Black Scorpion.  The dart was coated with curare.  It is a powerful neuro-toxin that paralyses but leaves its victim fully conscious.  You will be able to experience everything that is going to happen to you for the nest few hours until it wears off."
<![if !supportEmptyParas]> <![endif]>
Darcy broke out into a cold sweat.  She was paralyzed and helpless.  She strained every muscle, perspiration beading on her body, but she could not move a millimeter.  As she lay helpless she could hear the two phony cops releasing the Clancy Gang. 
<![if !supportEmptyParas]> <![endif]>
"Bitch," said one of the men she had beaten, looming over her.  He was rubbing his jaw.  "We ought to fuck her hard right now."
<![if !supportEmptyParas]> <![endif]>
"Later," was Von Stern's calm response.  "First I suggest we get her to someplace where we will not be disturbed.  Pick her up and put her in my car."
<![if !supportEmptyParas]> <![endif]>
Two men took the helpless heroine by her hands and feet and carried her across the warehouse parking lot.  There, sitting in the shadows was a black limousine.  They opened the door and threw her inside.  A few seconds later Darcy heard Von Stern get in beside her, but she could not see him as she had been tossed into the car face down.
<![if !supportEmptyParas]> <![endif]>
Hands gripped her under the arms and pulled her onto the seat, turning her so that she was face up in a semi-recumbent position.  She was seated beside Von Stern and for the first time she could see him clearly. 
<![if !supportEmptyParas]> <![endif]>
He was as she remembered him from his arrest twelve months ago.  He was a man in his forties with thinning pale blonde hair and a thin face that was capable of assuming a look of cruelty when it suited him.  Just now he was looking at her closely in a manner that Darcy found most unnerving.  At that moment she felt the car begin to move.  Von Stern smiled at her in a manner that would have been almost friendly had it not been for the feral gleam in his pale blue eyes.  "It's going to be a bit of a drive," he said.  "Perhaps we should take the opportunity to get to know each other better."
<![if !supportEmptyParas]> <![endif]>
Darcy felt a moment of panic as Von Stern's fingers slid beneath her cowl.  A slight tug and her secret identity would be revealed.  Then he withdrew his hand.  "No," he mused.  "It will be more fun to leave the mask on.  It will preserve an air of mystery about you."  Unfortunately for Darcy, however, he had no such reservations about the rest of her costume.
<![if !supportEmptyParas]> <![endif]>
He removed her shoulder pads first, unclipping them from the straps that held the rest of her costume in place.  Then he slid the strap off her left shoulder allowing her costume to fall away from her left breast.  Von Stern murmured in appreciation and then repeated the procedure with her right shoulder, slipping her costume over her breasts.  "My god," Von Stern exclaimed,  "Are those real?" 
<![if !supportEmptyParas]> <![endif]>
Darcy would have blushed in shame if she could have.  She was helpless as Von Stern fondled her breasts, kneading the soft but firm flesh as if it were bread dough.  She felt violated, but it was about to get much worse. 
<![if !supportEmptyParas]> <![endif]>
Von Stern removed her gloves and with it her Scorpion Sting.  She had hoped the energy weapon might be overlooked.  Now she had only her physical resources, and paralyzed by the drug they were completely useless.  She winced mentally as she heard the sound of snaps being unclasped and then the rest of her costume was peeled away from her torso.  Underneath she was wearing nothing except a brief lace thong that barely hid her sex. 
<![if !supportEmptyParas]> <![endif]>
Von Stern delayed the final undressing, taking time to remove her boots first, then he pulled her costume over her long, powerful legs.  "Beautiful," he murmured gazing at her almost nude body.  "A work of art."  He ran his hands up the insides of her thighs, stopping just short of her thong and then moving his hands to the waistband, tensed his muscles, snapping the thin elastic at the side.  Tossing the thin fabric aside he fixed his eyes on her naked loins. 
<![if !supportEmptyParas]> <![endif]>
"Your body is incredible," Von Stern gloated.  "And to think that it now belongs to me."  He ran his hands over her belly and then slowly downward toward her pelvis.  "It must be frustrating," he continued, "lying there unable to make even the slightest sound, but I promise you that you will make a great deal of noise later on." 
<![if !supportEmptyParas]> <![endif]>
His hands caressed the chestnut fleece that outlined Darcy's doorway to paradise.  "Perfect," he said.  Darcy wanted to scream in rage, but could not even whimper as the German master criminal ran his hands over her sweating body.  For the remainder of the trip she suffered humiliation as he explored every inch of her body. 
<![if !supportEmptyParas]> <![endif]>
"You have no idea how much trouble you have caused me," Von Stern said as he fondled Darcy's tight backside.  "Now it is payback time and I intend to be repaid in full.  I am going to break you and break you so completely that you will be my willing sex slave."
<![if !supportEmptyParas]> <![endif]>
"Like hell I will," Darcy thought, but inside her guts churned in fear.  She was terrified of what Von Stern and the Clancy Gang might do to her.  Somehow she had to find a way to escape before her kidnappers carried out their plan. 
<![if !supportEmptyParas]> <![endif]>
Suddenly she felt a faint tingling in her fingers and toes.  The poison was wearing off.  Did Von Stern know?  How much longer would the car ride last?  If she could just get back to normal before reaching the arch-criminal's hideout she might be able to turn the tables on her abductors. 
<![if !supportEmptyParas]> <![endif]>
Her hopes were dashed a few seconds later, however, as the car slowed.  "Ah, we're home," Von Stern exclaimed.  "The curare should be wearing off by now.  It's time to make sure you don't go anywhere except where I want."
<![if !supportEmptyParas]> <![endif]>
The car came to a halt and the door was opened.  "Bring her out, boys," Von Stern ordered.  "It's time to introduce our guest to a little bondage." 
<![if !supportEmptyParas]> <![endif]>
Darcy strained to move as she was manhandled from the car.  She appeared to be in an underground garage.  Standing around were several men she had not yet seen.  She guessed these were Von Stern's own men.  The Clancy Gang was no doubt still involved in looting the warehouse.
<![if !supportEmptyParas]> <![endif]>
She was carried over to a large table and paced face down on its surface.  Von Stern appeared carrying several lengths of green polypropylene rope.  Although softer than natural hemp fibres, the rope was much stronger.  If she was bound with it there would be little chance she could escape. 
<![if !supportEmptyParas]> <![endif]>
Von Stern pulled her arms behind her back and began to tie her wrists.  He was very thorough, wrapping several inches of rope about her wrists.  Finally, satisfied that she wasn't going to shed the ropes very easily, Von Stern finished by looping two lengths of rope about her waist and then tying it off.   Next he took another length of rope and tied it above and below her breasts.  He finished by tying a short length of rope about her ankles and another about her neck.  Then he waited.
<![if !supportEmptyParas]> <![endif]>
Slowly the paralysis ebbed from her body.  Von Stern seemed to know exactly when full function returned, as he pulled her off the table and set her on her feet. 
<![if !supportEmptyParas]> <![endif]>
Darcy stood swaying unsteadily as her sense of equilibrium returned.  She had never felt so hopeless or exposed.  She was in a large room, surrounded by a dozen men, all of whom were eyeing her body greedily.  Bound and helpless she could do nothing but stand there while they raped her mentally.
<![if !supportEmptyParas]> <![endif]>
"What's the matter, Black Scorpion?" Von Stern asked after a minute.  "Cat got your tongue or do you just have nothing to say?"
<![if !supportEmptyParas]> <![endif]>
Darcy found that she could speak.  "You scum," she said, her throat somewhat hoarse and dry.  "Release me.  You can't get away with this."
<![if !supportEmptyParas]> <![endif]>
"Can't I?" Von Stern sneered.  "We shall see, and I will start now."  He tugged on the rope, pulling Darcy toward him.
<![if !supportEmptyParas]> <![endif]>
Darcy staggered and almost fell, but managed to regain her balance.  With her ankles tethered she could not take very long steps, but neither could she use her feet to attack her foes.  Like a dog on a leash she followed along behind Von Stern as he led her out of the garage and into what appeared to be a storage room.  He continued to drag her after him until they reached a small elevator.  Von Stern took a key from his pocket and inserted it into the control panel.  "My own private elevator," he explained.  "It leads to my apartment."
<![if !supportEmptyParas]> <![endif]>
Darcy didn't need to be told why she was being taken there.  "No," she protested.  "Let me go.  It's just kidnapping so far, but if you rape me the consequences for you will be far worse."
<![if !supportEmptyParas]> <![endif]>
The elevator door closed.  "I don't see how a few hours of pleasure are going to cause me any problems," Von Stern leered.  "You better get used to this.  It will be your life from now on."
<![if !supportEmptyParas]> <![endif]>
"You'll never succeed," Darcy said.  Her voice almost broke from fear.  She had never been in this position.  If Von Stern carried out his promise he was going to rape her.  He heart beat like a rabbit's as she strained against the ropes, but there was not give; Von Stern had tied her too well.
<![if !supportEmptyParas]> <![endif]>
Swallowing she continued.  "You'd better let me go.  I've got friends who will come after me."
<![if !supportEmptyParas]> <![endif]>
A low chuckle sounded in Von Stern's throat.  "Such a foolish and pathetic threat.  Are you really that frightened?  Everyone knows that the Black Scorpion works alone.  No one has ever been seen with her.  What sort of friends could you possible have?"
<![if !supportEmptyParas]> <![endif]>
 "Useless ones," Darcy thought.  There was no one who could come to her aid.  She did have acquaintances who knew of her Black Scorpion identity, but none of them had ever accompanied her on a patrol.  Also there was the matter of them finding her.  How would anyone know where she was?  Her heart sank as she realized that she was totally at the mercy of the master criminal.  
<![if !supportEmptyParas]> <![endif]>
The elevator door slid open.  "Ah, here we are," Von Stern crowed.  He pulled her from the elevator.  Darcy found herself in a large well furnished room, but Von Stern did not stop there.  He marched her across the room and down a hallway.  Opening a door at the end he pushed her through.  Darcy gulped.  The room she was in contained enough bondage equipment to restrain a dozen women.  She almost panicked when she saw what awaited her. 
<![if !supportEmptyParas]> <![endif]>
"No," she said again.  "You can't do this.  Please let me go."
<![if !supportEmptyParas]> <![endif]>
Her voice caught as she used the word "please."  She was begging now, her defiant attitude evaporating. 
<![if !supportEmptyParas]> <![endif]>
Von Stern merely laughed.  Moving behind her he shoved her toward a large table equipped with a variety of restraining devices.    "Now my Black masked crimefighter, your training begins."  He laughed again.  As Darcy was forced onto the table she suppressed a scream.  Heroines didn't scream – did they?
<![if !supportEmptyParas]> <![endif]>
<![if !supportEmptyParas]> <![endif]>
<![if !supportEmptyParas]> <![endif]>
<![if !vml]>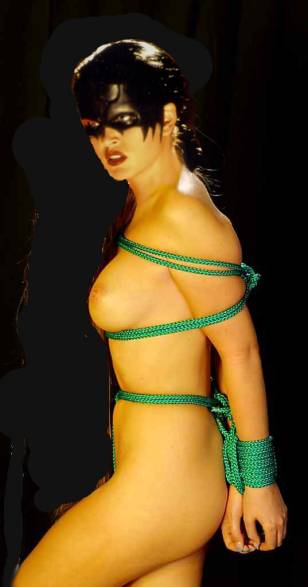 <![endif]>
<![if !supportEmptyParas]> <![endif]>
---