Here you can find large black & white line art that you can color in a paint program,
or, print out and color with colored pencils, etc.

I will be posting a "how to" section in the future but for now, those of you with the know how can jump in.
I got the idea when some of you sent me colorized versions of my sketches. I really enjoy them and I want to see what
you can do with these. Feel free to color them any way you like and to change them as you see fit.
HAVE FUN!

Here is an image that is set up for coloring. (You'll want to convert to 24bit before you start.)
You'll have to close some gaps to fill easily, but it's a great illustration.
Butterscotch Fox drawn by ExMaN.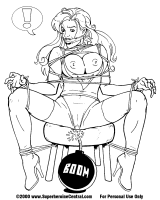 Here is our mascot flying.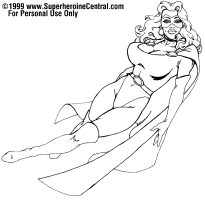 Here she is for the up coming image I am doing for the "links" section.
Get it?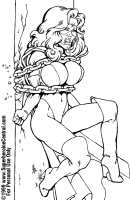 Remember, the newest stuff has a thick border.

A Beautiful job done on Butterscotch by Lord Rich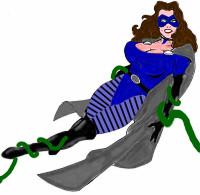 Comix Dude brings us a Beautiful Coloring job.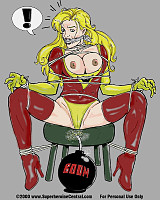 Here's a fabulous coloring from Guido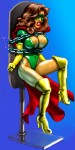 Tang has done a Beautiful coloring job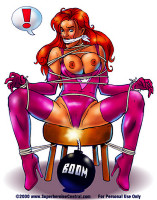 Antipodean shows us a Beautiful job of his character Silverstar..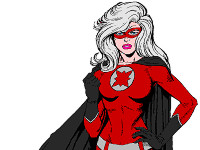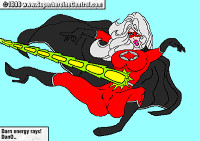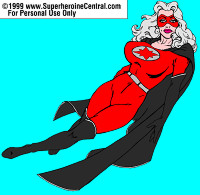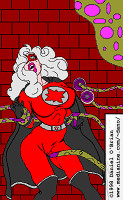 SKweB joins with an incredible coloring of Butterscotch Fox.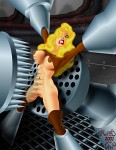 VERSATILE has done a Beautiful Coloring job of our Mascot and Butterscotch Fox..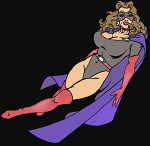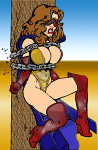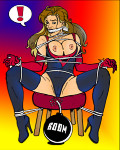 Here's a Fantastic Coloring of Butterscotch Fox by Liquid Art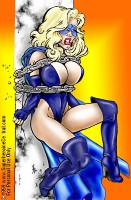 Dennis brings us his interpretation of Exman's Butterscotch.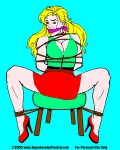 Rock Rock shows a very good job of Butterscotch Fox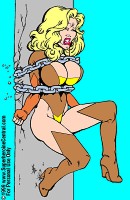 Here's one from our friend Mark at Harmony.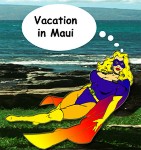 Here's a photo manipulation of Brite Star by Fade out. "poor Brite Star,has been hit by the evil Professor's invisibility ray."




Here's a great color job of Butterscotch Fox by Slamburger.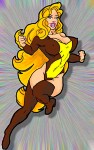 Here is a cool color job of ExMan's version of Butterscotch Fox, by Lobo.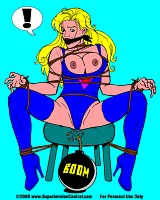 Here is an awesome color version of one of Smudge's sketches, from MisterE.
New from MisterE an amazing color rendition of a Reno sketch, reminds me of the old horror movie posters.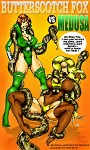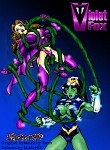 Here is John R's color version of our mascot.




Here is a really cool super impose job from Morph e us.




A great photo-manip by ReBel.



Here are some really great images by Rick. Amazing water color effect.






New photo-manip sent in by Kazz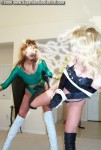 Something new from HailCeasar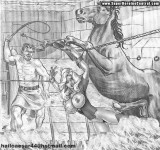 Nice Coloring job on the Three Foxes By: Swordsman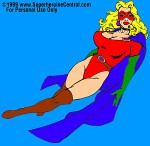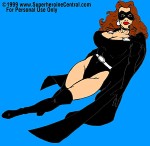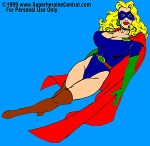 Here's a very nice coloring job by Panic Pencil




A fantastic job done on Butterscotch by The Viking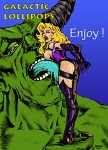 I-Borg has done soms great coloring jobs on some of my sketches.







You know DAMN well Butterscotch must have been a cheerleader at some point in time.
You know she was probably attacked by some creature so Kev's version is QUITE appropriate.




Here, Chloronut has colored in a sketch I did of the new American Fox,
(which he started)
I reserve the right to fuck up the color scheme at my leisure!




Warning.
A more violent version of our mascot, here she has more to worry
about than the chains.
Thanks go to someone who didn't mention if I could
post his name or give me a "nom de net".



Here are some new foxes courtesy of Chloronut!





And Tom takes a stab (figuratively) at coloring our heroine.





Heroines can be so selfish at times. Thanks Don.




This fellow prefers his heroines to be ALIEN!!!




And here they are regular flavor.





An inking job of one of my more popular sketches...




Butterscotch Fox having FUN?!!! Thanks to TQLR!




ChachoBro's versions of our heroine. Ain't this fun?!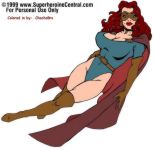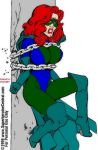 Here is more from Francis.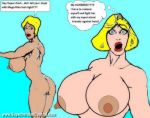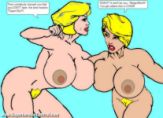 Doctor Diabolical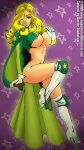 Holy Shit! Lookit this one by Shockstor!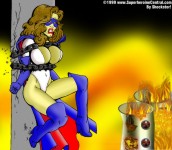 Here is Matt's coloring job and two by a fellow called Hail Caesar.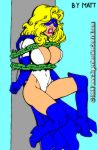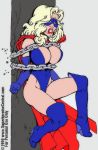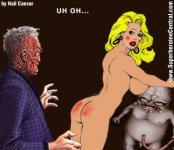 Welcome to new comer "Hypnotic"!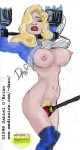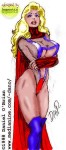 Matt and Hail Caesar give us some more. Hail decided to enlarge Butterscotch's tits. HOLY COW!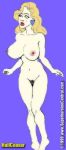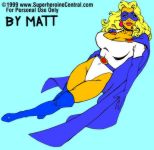 SuperheroineCentral.com is produced and hosted by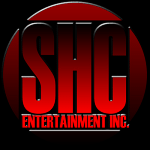 ©2005 www.SuperheroineCentral.com