When the story starts, Mighty Girl is dead.
Professor Irene Shredd is being interviewed about the circumstances of the killing.
Mighty Girl's mangled remains lay on a slab to the side.
We are taken through the killing in meticulous detail to find out how the world's
most invincible superheroine was so expertly destroyed.
TO APPRECIATE THE MAGNIFICENT BEAST WE'VE DESTROYED
I'VE INCLUDED MIGHTY GIRL FUN GALLERIES.
SEE SAMPLES OF THAT HERE.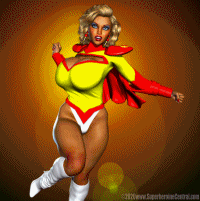 ©2020www.SuperheroineCentral.com