112 Comic Book Pages • Three Page Sizes • Over 400 Renders
Light & Extreme Versions for both the story and raw images.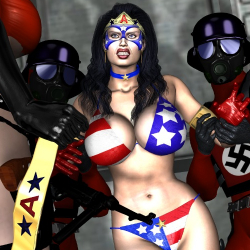 DIGITAL DOWNLOAD
$30 DIGITAL DOWNLOAD


The Fourth Reich is on the MARCH! They've kidnapped the Vice President.
What the world needs now is a hero! Is Ms. Americana the only person that can take on the evil Nazi army and triumph? You're kidding... right? Even with the help of Lady Victory, the star spangled slut barely escapes with her life! It takes one hell of a busty bikini super bimbo to get into this much trouble. Ms. Americana & Lady Victory endure it all!
They are defeated, beaten, raped, milked, tortured, impregnated, forced oral, tit fucked, and gang raped by over a hundred of the 4th Reich's most vicious super soldiers!
Enjoy the degradation of these proud super sluts!